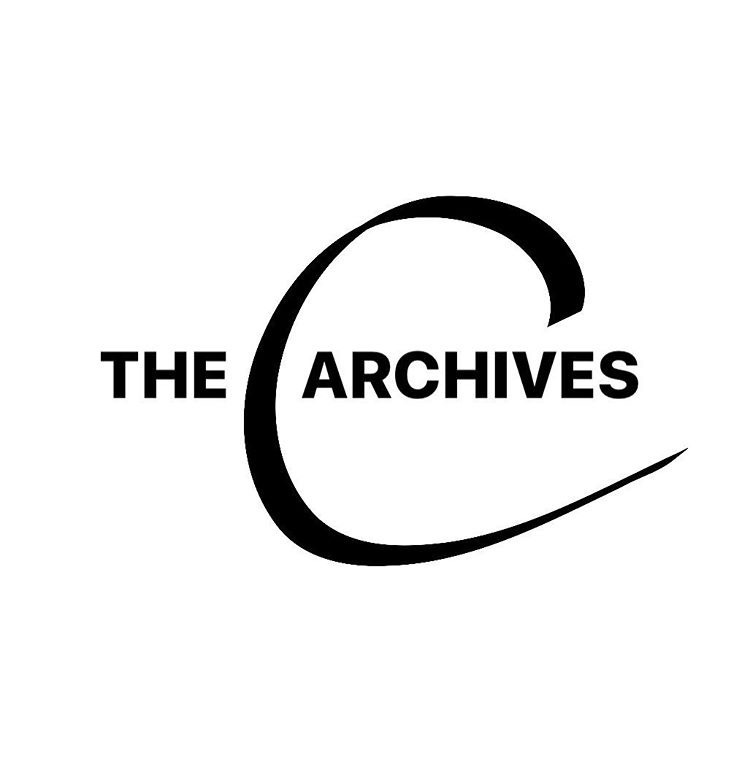 Who is behind the pseudonym THE CARTIER ARCHIVES? This is what we wanted to discover, because we were quickly intrigued by the quality of the publications of this enthusiast whom we met on Instagram. We invite you to find out more through this interview. Even if we will not reveal neither the photo nor the complete identity of this passionate and great connoisseur of the Cartier brand, according to his wishes…
Tell us about yourself. Where are you from and what is your background?
My name is Vu, owner of the Instagram account @TheCartierArchives. I'm currently studying and living in Germany. As a Cartier enthusiast, I have the biggest passion for horology and have set my mission to bring my audiences the most interesting facts and information about the Maison and their phenomenal creations. Of course, I don't refer to myself as an expert but I am more than willing to research, learn and give back.
How and when did your interest for watches start? And do you remember your first watch?
My interest for watches started since I was a kid, I was absolutely fascinated by both the concept of time and design. The moment when I actually looked into watches was about 3 years ago—mostly dive watches. My taste has quickly shifted since then. Cases and shapes of watches got to me, they were my absolute priority when looking for a watch and divers to me were just not unique enough.
A noteworthy anecdote or particular feelings with one of your watches?
I used to have a digital Casio in middle school, a small but chunky one in the black and gold colorway. The watch became a part of me. I felt completely naked whenever I go out somewhere without it back then, and still do today. That very $25 Casio started it all for my watch "journey".
What is your approach to acquire knowledge about a model?
When tracking a particular Cartier model (which some can be extremely rare in the period of the 20s to 50s) since the Maison did not produce many watches as they do today for the past 60 something years, I tend to go for documents and books that I have saved, sometimes auction lot archives. What one can find on the internet is just the tip of the iceberg, although most of the time searching for photos to post is necessary.
What is your favorite complication?
I adore the minute repeater. It is such a beautiful and artistic complication that requires a lot of precise craftmanship, the result is almost always guaranteed to be stunning. Take this 1929 creation by Audemars Piguet for example. It is a 29mm platinum watch which was quite standard at the time. At first glance, one would think that this is just another ordinary gentleman's dresswatch. What's hidden though, is a beautiful chime that I bet will leave everybody in the room speechless. Pair that with a Cartier signature and "Breguet" type hands on the dial and you have a masterpiece. I believe this was sold by Phillips Auction for over CHF 509,000 back in November 2015.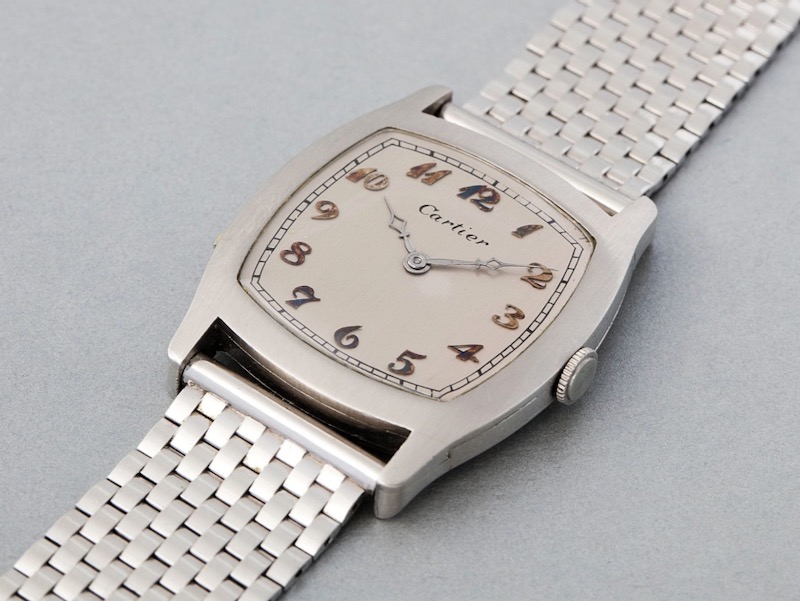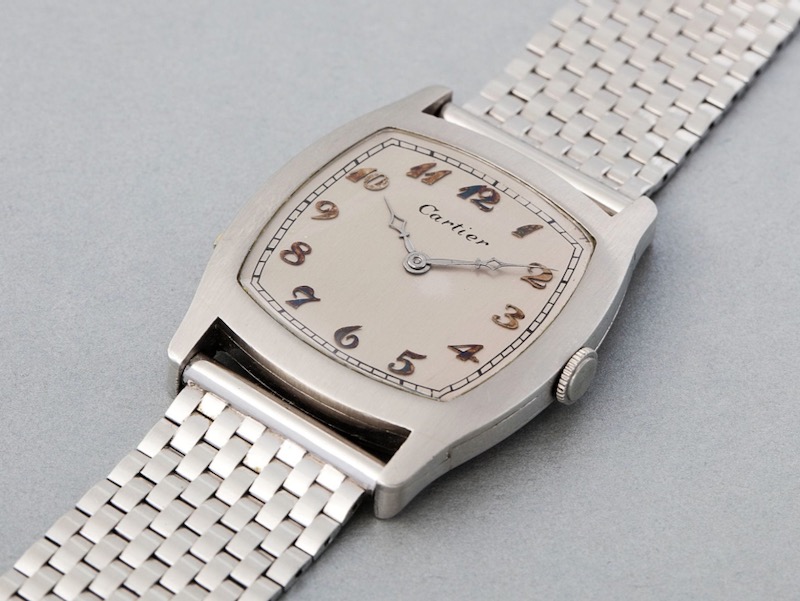 An extremely rare and important platinum cushion-shaped minute repeating wristwatch with Breguet numerals and bracelet, retailed by Cartier (1929).
Credit: Phillips.
The 3 most iconic watch models?
To me the most 3 iconic Cartier watch models (or shapes) are the Tank, the Santos and the Crash.
The Tank is such an undeniably iconic model for Cartier worn by many famous people, that includes Andy Warhol, Muhammad Ali, Princess Diana and many more. When one refers to the brand, it is usually the Tank that is mentioned out of all models. Its simplicity attracts people (like me) who enjoy small, conservative but finely made watches. Its rich history and countless of variations throughout the 20th century is another reason for that. Shown here is Jackie Kennedy—the former first lady of the United States' own personal Cartier Tank.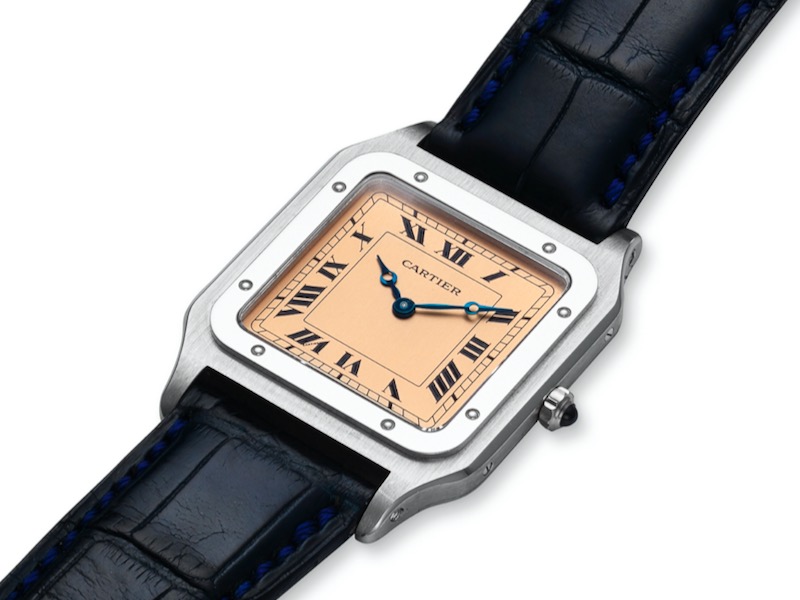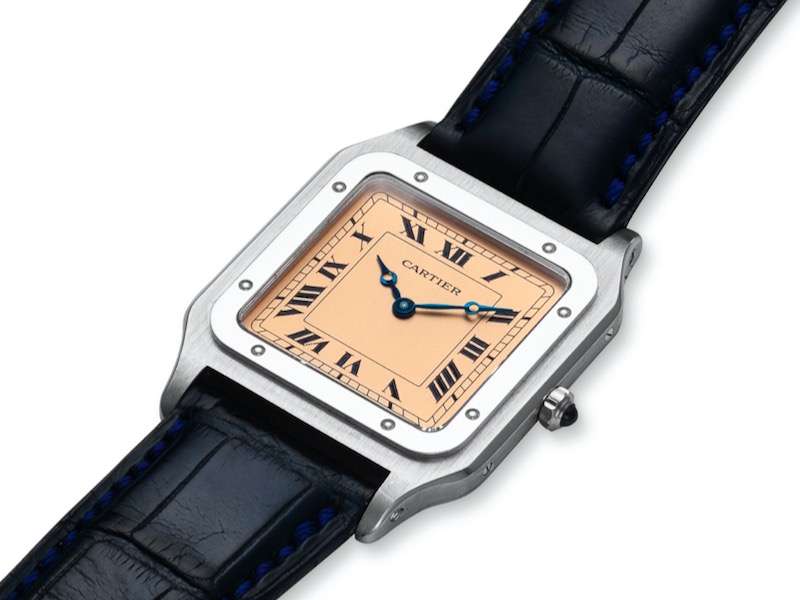 The Cartier Santos CPCP in platinum.
Credit: Christie's.
The Cartier Santos to me is a very meaningful and innovative watch as it is the world's first pilot's wristwatch ever invented and that already tells us something about it. It has gotten its name through the pioneer and pilot Mr. Alberto Santos Dumont who requested Mr. Louis Cartier for a pocketwatch that could be worn on the wrist that he can check the time with while flying airplanes. In 1906 he has set the record for being the first and fastest person in an airplane while being filmed in-flight – of course, wearing the Cartier Santos. The Maison has produced a lot of fine versions of the watch since then. My personal favorite piece from the line surely has to be the CPCP Salmon dial Santos Dumont reference 1575-1 made to celebrate the 90th anniversary of Cartier's Santos creation. The piece was made in 1994 in a limited edition of only 90 units ever manufactured.
The Cartier Crash.
Credit: Christie's.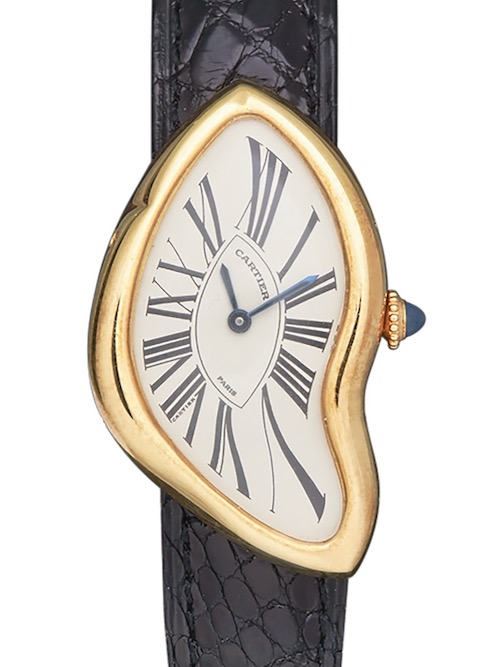 The Crash is another very unique piece. There are no words that can describe its perfect imperfect proportions. Rumored to have been shaped from a Cartier Baignoire Allongée that was molten down by fire during a literal car crash, it was then taken to Cartier themselves for repairs. The designers of Cartier back then thought the shape was so intriguing that they had to come up with something, and something they sure did came up with. Since the 60s, Cartier only manufactured a handful of these, each time with a little twist, the shape still to this day remained faithful to the original.
Are you more modern or vintage? And why?
I'm more of a vintage guy, since I believe that the golden era of Cartier watchmaking has passed and also because I am a huge geek when it comes to antiques!
My personal "Grail" watch is the Cartier "Cheich", also known as the Paris-Dakar Cartier.
In the year 1977, the famous French motorcycle racer Thierry Sabine got lost on his bike in the vast Lybian desert while completing the Abidjan-Nice Rally. The man was then found and rescued after almost 3 days, stranded in the middle of the desert along with his Yamaha XT 500 motorcycle. Thierry promised himself during the crisis that if he ever makes it out alive, he will organize the biggest and hardest motorcycle rally ever, and boy, he did. Thierry then had one goal and one goal only: to take people through Europe down to the vast and mythical deserts all the way to Dakar. Finally, in 1979, the Paris-Dakar rally was born. During a lunch-out with the president of Cartier at the time, Mr. Alain Dominique Perrin, Thierry requested that he would really want to receive a watch that reflects and captures the spirit of his rally. After many designs and sketches later, Mr. Alain Dominique decided to focus on the watch, making it look like the Paris-Dakar logo – the cheich emblem. Thierry Sabine loved the concept a lot and finally agreed to the design. Two "Cheich trois ors" watches were manufactured in yellow, one in pink and one in white gold, with the iconic Cartier crown and a blue cabbochon on a brown leather strap. To win the watches, racers needed to win the "Cartier challenge" – which is to win the Paris-Dakar 2 times. Only 2 people have completed the mission: Hubert Auriol and Gaston Rahier, both on motorcycles in the early 1980s. Gaston Rahier even mentioned in an interview that the watch was the best gift he has ever received in his life. According to witnesses, Hubert Auriol was absolutely blown away and praised the beautiful and original construction of the piece. Unfortunately in 1986, Thierry Sabine died of an unexpected death which lead to an end to the Cartier Challenge. Cartier themselves have estimated these pieces to go for USD 180,000 per piece in 2011, but again, that was 2011…I can only imagine these going for millions today. This is quite possibly the greatest Cartier creation to date in my humble opinion.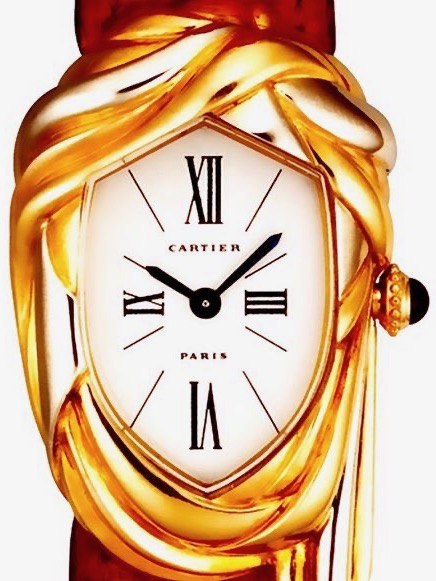 The Cartier Cheich.
Credit: The Cartier Archives.
What would you answer if a friend tells you "I don't need a watch, I have a cell phone that tells me the time"?
I would pretend like I agreed with that friend! One cannot simply force someone into liking something.
How do you consider a watch collection: an investment, just a pleasure, or both?
I view watches as a horrible investment, most of the time. When somone buys something just to wait for the value to go up, it is almost like gambling. Real and serious collectors view watches as a hobby and enjoy admiring them for what they are. To this day though, I have yet to encounter anyone or any of my followers getting watches as investments.
What's on your wrist today?
On my wrist today is a Tank which I cannot reveal (yet). The reason for that, is that I need a few more years to perfect my collection before I show anyone the pieces I have.
How many times a day do you watch… your watch?
Probably too much, the doctor advised me to stop.
What model would you like to be detailed in a future "ONLY" book?
I love the ONLY concept and the page. It is a very informative platform (very similar to mine, actually) where enthusiasts and people who are passionate about watches can come together and discuss about watches. I would be more than thrilled to see a ONLY book covering the Omega "Marine" model from the 1930s.
Follow The Cartier Archives.
You can follow all The Cartier Archives' activities and progress via Instagram.