The definitive story of the Speedmaster Ultraman
For a long time, Speedmasters collectors have talked about models equipped with an orange central chrono hand, and the possible link with a Japanese TV Series. The question was whether such a configuration could be original or not. We had never answered to it, until we have had more precise and verified information about it.
We are now able to state about the origin of this amazing watch.
Ultraman is the name of a Japanese science-fiction TV series (and of its main character) created by Eiji Tsubaraya and released from 1966 to 1967. Ultraman is a superhero who protects the Earth against various monsters and aliens, see the origin of the story taken from Wikipedia.
The first series begins when Science Special Search Party (科学特別捜査隊 Kagaku Tokubetsu Sōsa-tai) member Shin Hayata is flying his plane and a red sphere of light crashes into his Mini-VTOL. The sphere turns out to be the transport (Travel Sphere) for a giant red-and-silver being who calls himself Ultraman. Feeling remorse for having killed the human, he merges his essence with Hayata to save him. In return, Hayata serves as the human host for this being, and whenever danger threatens, and the resources of the Science Special Search Party are not enough to counter it, he raises and activates a power-object and artifact called a "beta capsule" and transforms to Ultraman to save the day.
Following this series, Tsubaraya produced The Return of Ultraman in 1971. The Ultraman series, involving superheroes and monsters, have inspired others series like Message from Space: Galactic Wars (original title Uchū kara no Messēji: Ginga Taisen aka San Ku Kai) in the 70s.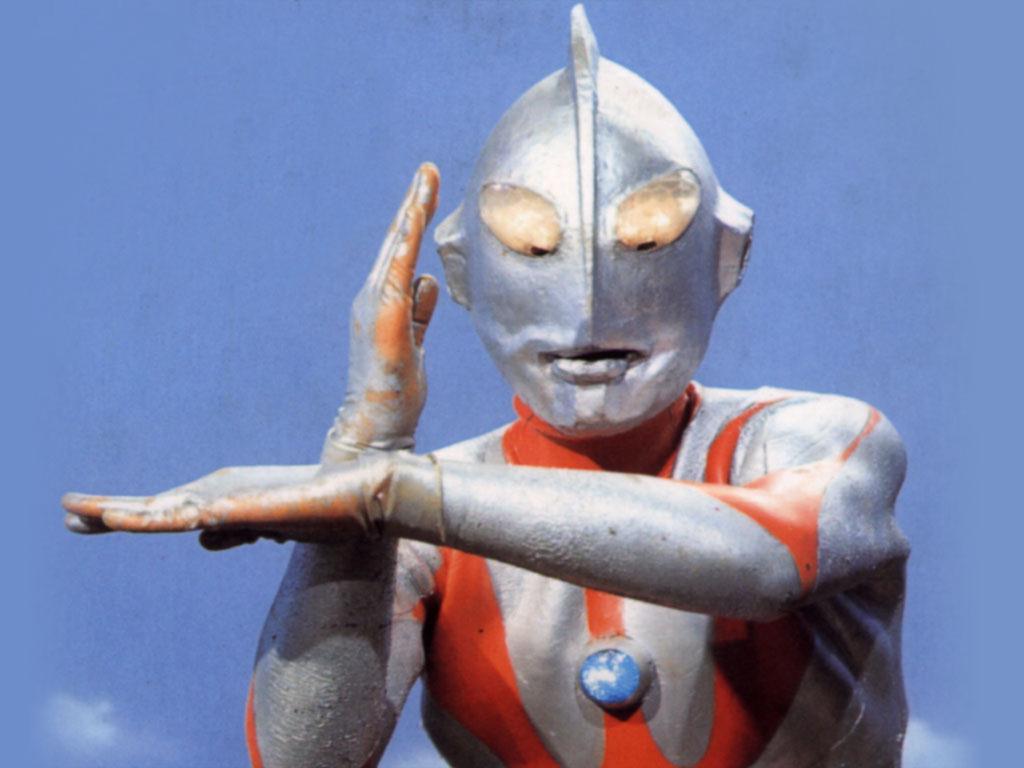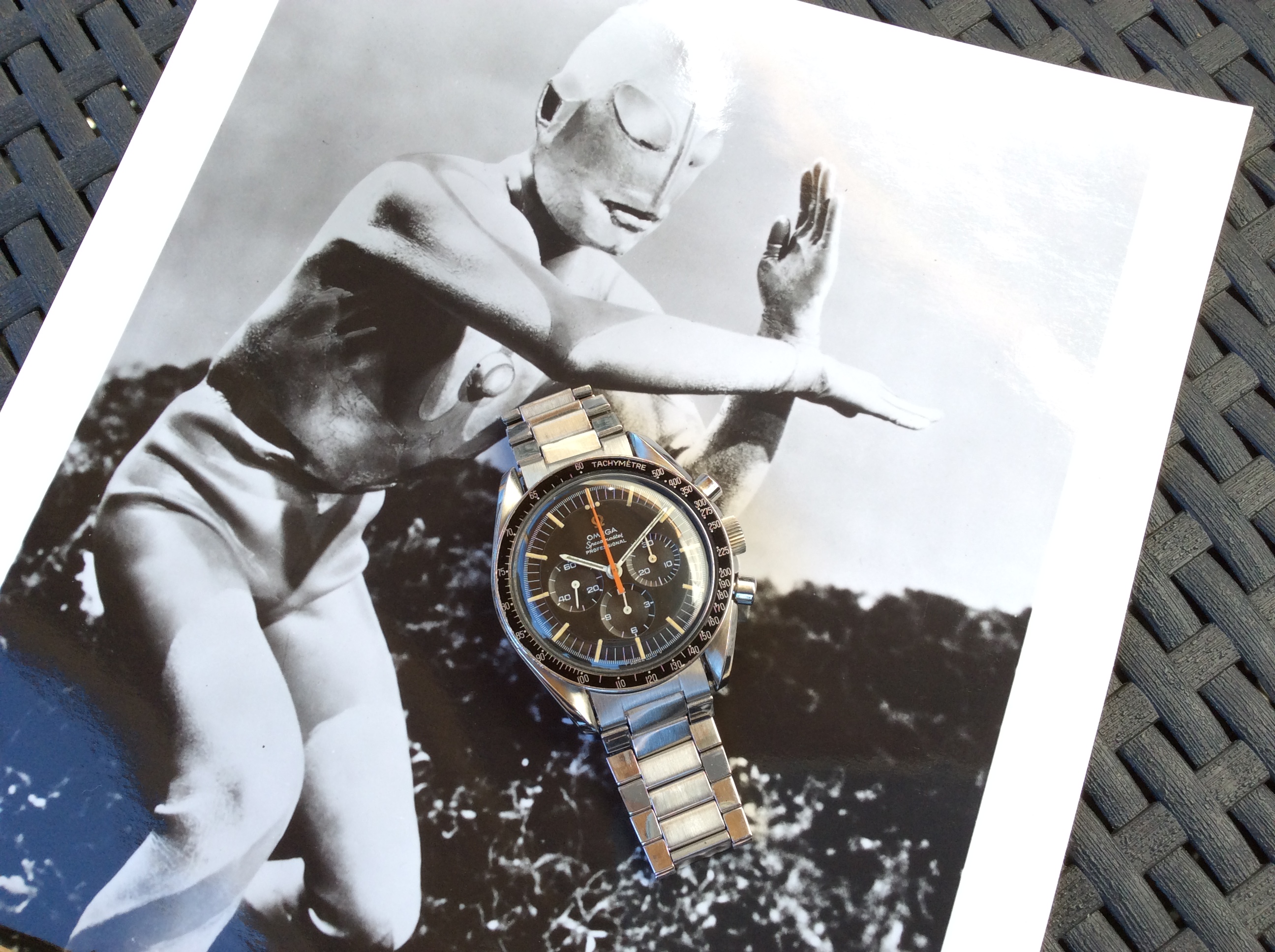 Some of you will probably ask: what's the relationship between the Ultraman series and our beloved Speedmasters?
In The Return of Ultraman series, a close-up of a special Speedmaster Professional was revealed in episode 8: this Speedmaster had an orange-red chronograph second hand. For this reason, collectors gave it the nickname "Ultraman".
A few years ago, most Speedmaster collectors (including ourselves) were not totally convinced that this hand was originally fitted to the Speedmasters of that time, only very few examples had been observed.
After several years of observation and the contribution of many Speedmaster collectors, we were able to track more than 20 examples with full or partial serial number information:
1) They are all references ST 145.012-67.
2) They are mainly in the serial range between 26.075.xxx and 26.079.xxx, with some exceptions observed in 26.07x.xxx.
3) They were produced in an extremely short time mostly in June 1968.
4) They were not destined to a particular country.
Here are more details about the models we have observed:
#26.075.50x: 29 June 1968, delivered to Bahamas
#26.076.86x: 6 June 1968, delivered to Sweden
#26.077.23x: 14 June 1968, delivered to Mexico
#26.077.24x: 21 June 1968, delivered to Switzerland
#26.077.30x: 14 June 1968, delivered to Switzerland
#26.077.39x: 6 August 1968, delivered to Denmark
#26.077.48x: 14 June 1968, delivered to US Navy 6th Fleet
#26.077.53x: 7 June 1968, delivered to Sweden
#26.077.56x: 21 May 1968, delivered to Sweden
#26.077.56x: 5 June 1968, delivered to Sweden
#26.078.04x: 17 June 1968, delivered to Angola
#26.078.76x: 14 June 1968
#26.078.80x: 25 June 1968, delivered to USA
#26.078.85x: 28 June 1968, delivered to Switzerland
#26.078.91x: 24 June 1968, delivered to the European Exchange System (US Army)
#26.078.95x: 17 June 1968, delivered o Finland
#26.079.13x: 25 June 1968, delivered to Denmark (watch n. 1)
#26.079.13x: 25 June 1968, delivered to Denmark (watch n. 2)
#26.079.17x: 24 June 1968, delivered to the European Exchange System (US Army)
#26.079.14x: 24 June 1968, delivered to Germany
#26.079.18x: 20 June 1968, delivered to Germany
#26.079.64x: 27 June 1968, delivered to USA
#26.079.74x: 28 June 1968, delivered to USA
#26.079.78x: 2 July 1968, delivered to USA
Its appearance during the japanese TV series, a very narrow block of serial number and production dates, as well as various witnesses from original owners (or relatives to them) opened the idea that it could well have been an original option back in 1968.
But we wanted to be totally convinced and with the help of the OMEGA Museum (and their watchmaker) who carried out precise hands measurements, we noted that the Ultraman chronograph hand dimensions are specific and thus does not come from any other OMEGA model such as the Flightmaster, the Chronostop, the Seamaster radial ST 145.006 or the Speedmaster Mark II. See the table below for a comparison.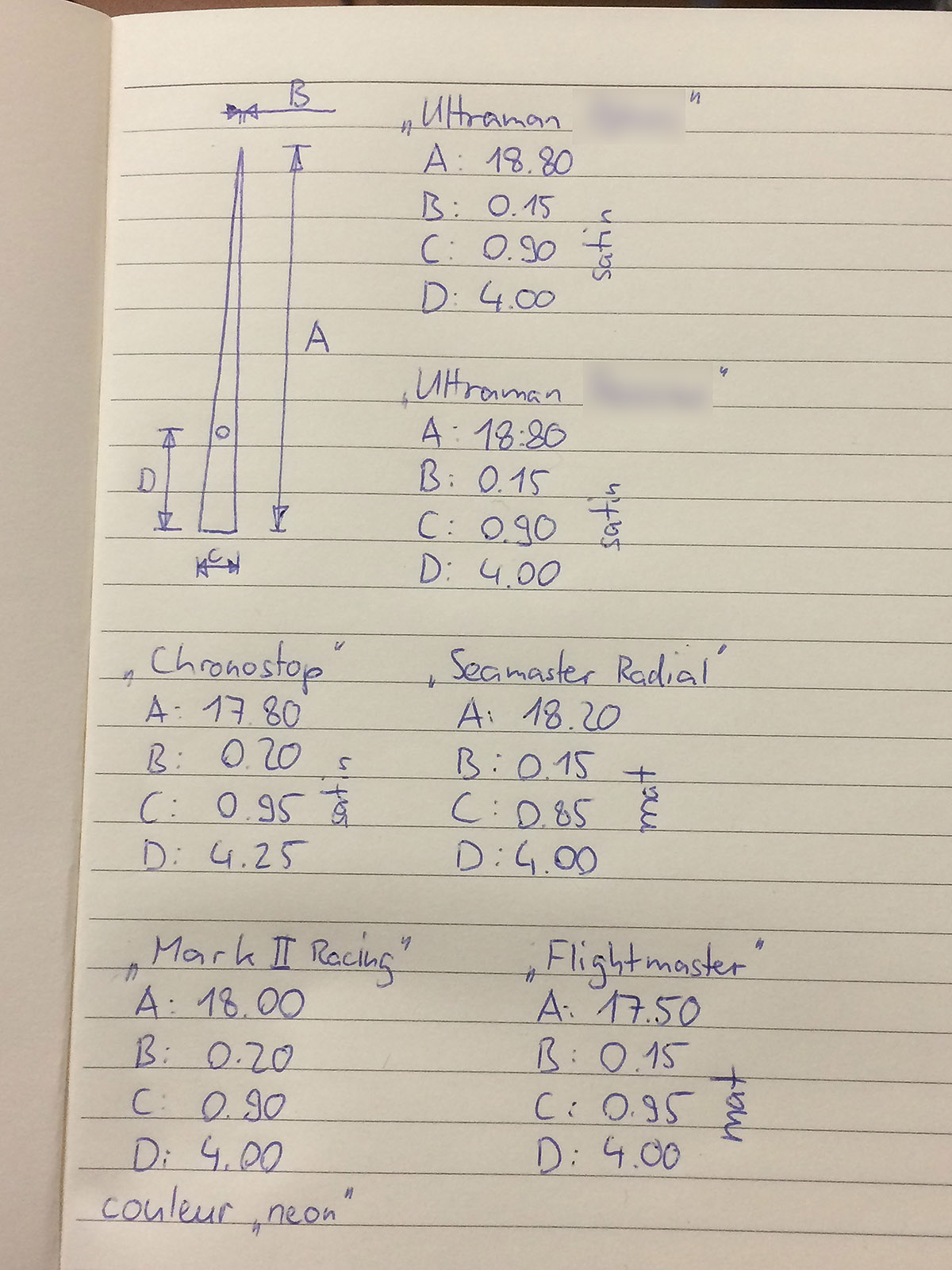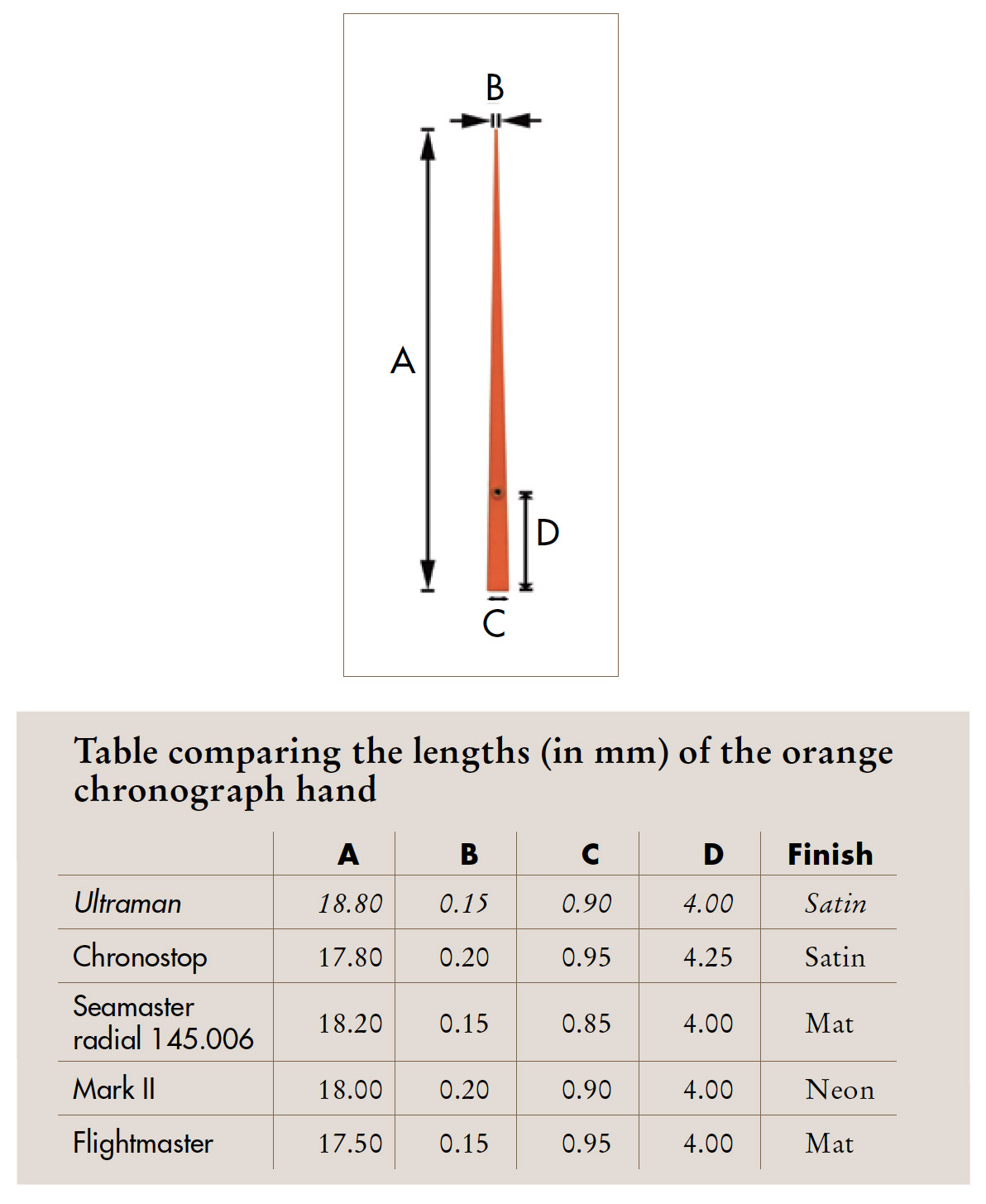 The original drawing and illustrations showing the dimensions of the Ultraman chronograph hand compared to those of other OMEGA models with a similar hand. Two Ultraman models were used and showed identical dimensions.
OMEGA themselves have now acknowledged the Speedmaster Ultraman as an official model, which has been chosen as one of the 60 Speedmasters for the poster illustrating the 60th Anniversary of the model.
In a nutshell, we would like to draw two conclusions:
1) This was a collaborative work and without the collectors' interaction, it would not have been possible to move forward so efficiently on the subject.
2) This is very interesting to observe that back in the 60s, OMEGA produced some very small lots of Speedmasters with special features. Was it on request from some customers? Or a spontaneous initiative from OMEGA? No confirmation so far, but this is probably with the same philosophy that OMEGA released the ST 145.022-69 "Racing"… but that's another story.
Coincidentally, two events will highlight the Speedmaster Ultraman in the coming weeks:
12 May 2017
Watches with Nicknames, an exhibition by the Davidoff Brothers.
1 June 2017
Bruun Rassmussen Auction will offer an Ultraman model with original papers and optional pulsometric bezel.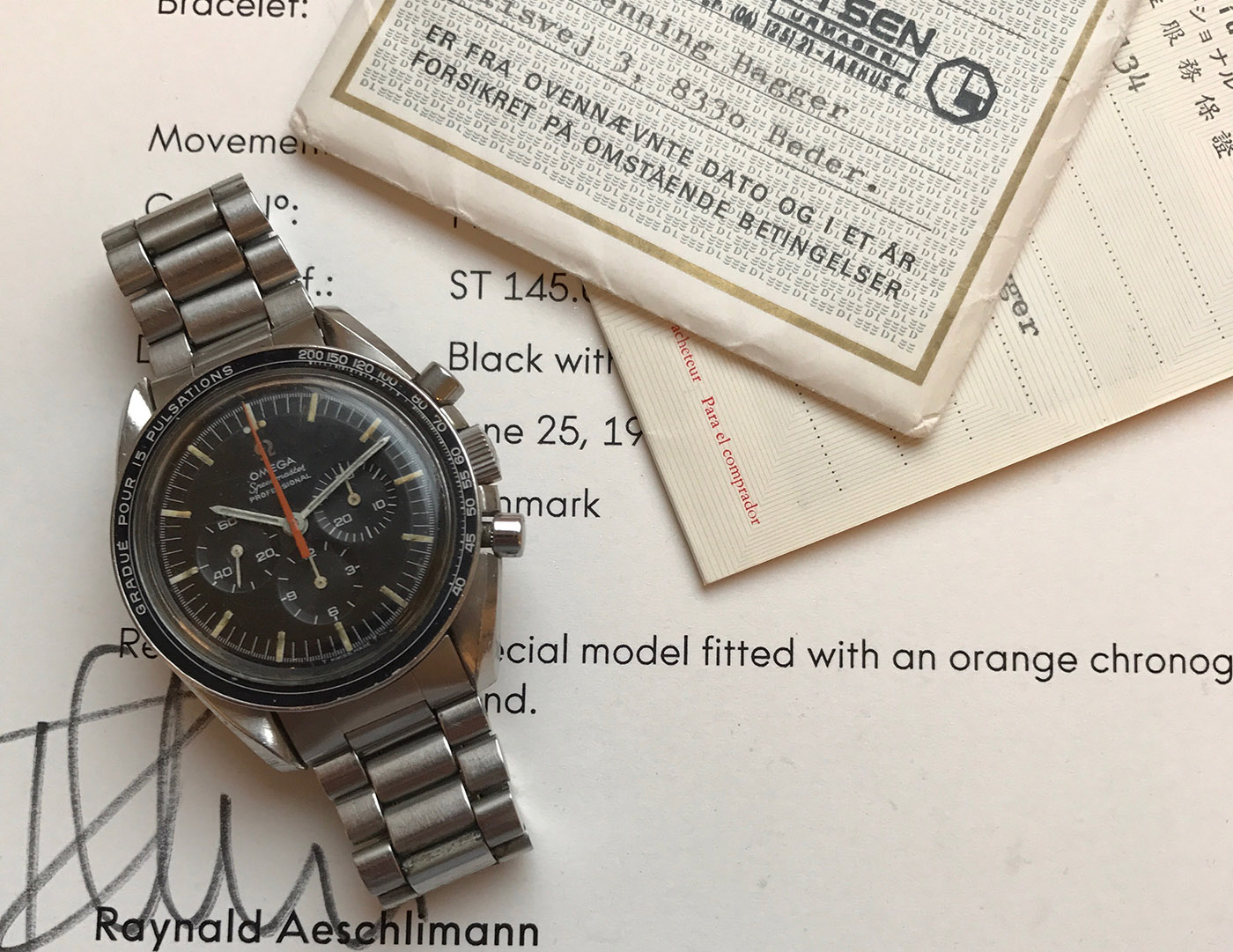 AND WHAT ABOUT THE DIALS?
OMEGA Museum's team has recently noted that the dial (at least of 3 examples observed) of the Ultraman was different than those of the standard ST 145.012s. So we had a more careful look at our own Ultraman… and indeed the dial is different in color and finish: the Ultraman's dial is pure black and has a satin varnish, while it is dark grey (anthracite) and the varnish is matte on standard ST 145.012s. A similar satin finish has already been observed on rare blue-grey dials of the same period.
Furthermore, we all noted that the indexes have always a peculiar "caramel" patina on the Ultraman models…
These additional specific features (in addition to the unique orange hand) definitely confirm that the so-called Ultraman was a genuine model proposed by OMEGA for a short period in 1968, and not a kind of franken Speedy.
Comparative pictures to follow!
A big thank you to Petros Protopapas of the OMEGA Museum and his team for this remarkable finding.
Comparative pictures to follow!