Brian Kelly (February 14, 1931 – February 12, 2005) was an American actor best known for his role as Porter Ricks, the widowed father of two sons on the NBC television series Flipper.
Kelly was born in Detroit, Michigan, the son of Republican Governor of Michigan Harry F. Kelly and the former Anne Veronica O'Brien. Kelly had three sisters and two brothers, one of whom was his fraternal twin. His nephew (sister's son) is actor Brian d'Arcy James.
Kelly headed to Hollywood in the late fifties after choosing acting as his career. Following minor roles in Adventures in Paradise, The Beverly Hillbillies, and The Rifleman, Kelly starred in two short-lived television series, NBC's 21 Beacon Street (1959), with Dennis Morgan and Joanna Barnes,and ABC's Straightaway (1961-1962) with costar John Ashley.
In 1964, Kelly took over the Chuck Connors role from the 1963 family film Flipper, playing Porter Ricks, Chief Warden at Coral Key Park and Marine Preserve and recently-widowed father of Sandy Ricks (Luke Halpin) in the 1964 sequel Flipper's New Adventure.
He continued the role in the family-oriented action and adventure television program Flipper that same year. In the TV series, Porter would also have a second son, Bud (Tommy Norden). Kelly is remembered today for his strong and convincing portrayal of a morally responsible single dad. Kelly was quoted at the time as saying that he loved the role because of its family-friendly qualities.
The success of Flipper led Brian Kelly to a brief movie career, including a lead in Around the World Under the Sea (1966).
In 1970, Kelly sought to change his image by playing the role of Robin Stone in The Love Machine, based on the novel by Jacqueline Susann. Just prior to filming, he was involved in a motorcycle accident which left his right arm and leg paralyzed. John Phillip Law took over the role, Kelly won a legal settlement in the case but the accident ended his acting career. Kelly used money from the settlement to build homes and then to produce films. He served as executive producer of Blade Runner (1982).
Flipper is an American feature film released on August 14, 1963 written by Arthur Weiss based upon a story by Ricou Browning and Jack Cowden.
Produced by Ivan Tors and directed by James B. Clark, it portrays a 12-year-old boy living with his parents in the Florida Keys, who befriends an injured wild dolphin. The lad and his pet become inseparable, eventually overcoming the misgivings of his fisherman father.
FLIPPER'S NEW ADVENTURE
(FILM, 1964)
Flipper's New Adventure (known in some countries as Flipper and the Pirates) is an American feature film released on June 24, 1964 by Metro-Goldwyn-Mayer, written by Art Arthur, and directed by Leon Benson. It was a sequel to the 1963 film, Flipper and was based on characters created by Ricou Browning and Jack Cowden.
The film, released before the TV series premiered, received good reviews and outdid the first film with more audience attendance.
FLIPPER
(TV SERIES, 1964-1967)
The television show is an extension of the 1963 film and of its 1964 sequel. It was first broadcast on NBC from September 19, 1964, until April 15, 1967.
Flipper, a bottlenose dolphin, is the pet of Porter Ricks, Chief Warden at Coral Key Park and Marine Preserve (a fictional version of John Pennekamp Coral Reef State Park in Key Largo, Florida), and his two young sons, Sandy and Bud. The show has been dubbed an "aquatic Lassie", and a considerable amount of children's merchandise inspired by the show was produced during its first run.
AROUND THE WORLD UNDER THE SEA
(FILM, 1966)
Around the World Under the Sea is a 1966 science fiction film directed by Andrew Marton and starring Brian Kelly, with Lloyd Bridges, David McCallum, Shirley Eaton, Gary Merrill, and Marshall Thompson.
It follows the adventures of a crew of the deep-diving nuclear-powered civilian research submarine Hydronaut making a submerged circumnavigation of the world to plant monitoring sensors on the ocean floor that will help scientists better predict impending earthquakes.
Although Jules Verne isn't credited by the film makers, his influence can be seen throughout the film.
Around the World Under the Sea was one of a host of underwater sf films made during the 1960s.
The genre had begun with Irwin Allen's Voyage to the Bottom of the Sea (1961) and the popular tv series spun out from it (1964-68). In many ways, it can be seen that these films were exploring underwater reaches or "inner space" in much the same way as the US Space Program was making great strides in the exploration of Outer Space during the same era.
The underwater photography, supervised by diver Ricou Browning who played The Creature from the Black Lagoon (1954) and directed the diving work in the James Bond film Thunderball (1965), is highly impressive.
CAST
– Brian Kelly (Dr. Craig Mosby)
– Lloyd Bridges (Dr. Doug Standish)
Lloyd Vernet Bridges Jr. (January 15, 1913 – March 10, 1998) was an American film, stage and television actor who starred in a number of television series and appeared in more than 150 feature films. He was the father of actors Beau Bridges and Jeff Bridges. He started his career as a contract performer for Columbia Pictures, appearing in films such as A Walk In The Sun, High Noon, Little Big Horn, and Sahara. On television, he is best remembered for starring in Sea Hunt from 1958 to 1961. By the end of his career, he re-invented himself and demonstrated a comedic talent in such parody films as Airplane!, Hot Shots!, and Jane Austen's Mafia! Among other honors, Bridges was a two-time Emmy Award nominee. He received a star on the Hollywood Walk of Fame on February 1, 1994.
– Shirley Eaton (Dr. Margaret E. "Maggie" Hanford)
Shirley Eaton (born 12 January 1937) is an English actress, model and author. She was a sex symbol in the 1950s and 1960s, often dubbed the Cockney blonde bombshell for her London accent, blonde hair and sex appeal. Eaton appeared regularly in British films throughout the 1950s and 1960s, and gained her highest profile for her appearance as Bond Girl – painted in gold – Jill Masterson in the James Bond film Goldfinger (1964). Eaton also had roles in the early Carry On films. Preferring to devote herself to bringing up a family, Eaton retired from acting in 1969.
– David McCallum (Dr. Philip Volker)
David Keith McCallum, Jr. (born 19 September 1933) is a British-American actor and musician. He first gained recognition in the 1960s for playing secret agent Illya Kuryakin in the television series The Man from U.N.C.L.E.. In recent years, McCallum has gained renewed international recognition and popularity for his role as NCIS medical examiner Dr. Donald "Ducky" Mallard in the American television series NCIS.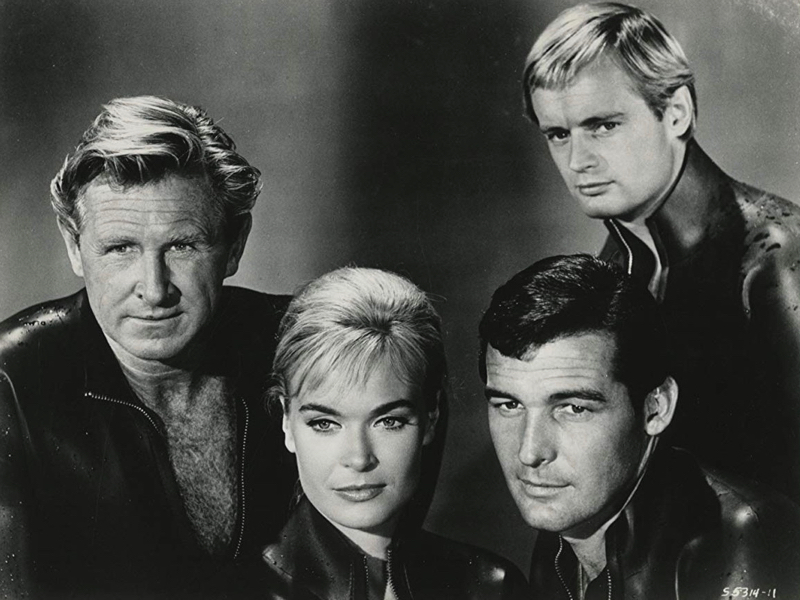 Around the World Around the Sea.
Left to right: Lloyd Bridges, Shirley Eaton, Brian Kelly, David Mc Callum.
After World War II, a period of reconstruction, prosperity and innovation took over from the disaster of the previous years. Driven by natural curiosity and propelled by accelerating technology, people started exploring and conquering new horizons: the ocean depths, mountain peaks, the sky and space. Accordingly, people started to travel farther, faster and more often.
At the same time the watchmaking sector was emerging from a difficult period and had to come up with new ideas. The various manufacturers during the 1950s and 60s took naturally to conceiving ever-more targeted and professional watches suitable for new types of owners in their work, leisure or travels. The watch companies thus turned their attention to two main avenues: diving watches and chronographs. The biggest brands, Breitling, Heuer, Omega and Rolex among them, developed designs that became historical successes and are still sold today. Most of the chronograph producers chose suppliers of reputed Swiss movements, which had during that time formed cartels to manage competition.
An article in the November 1963 edition of the Journal Suisse d'Horlogerie et de Bijouterie makes interesting reading. It recounts the advertising campaign by major chronograph manufacturers to attract a new clientele – young people whose activities include racing, whether in cars, on skis, in the water or on the running track. Furthermore, they were increasingly tending towards the scientific and technical professions where a chronograph is entirely justified.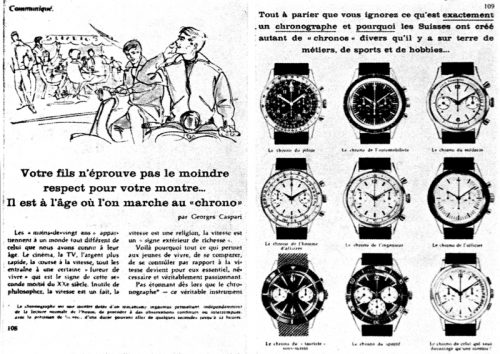 Extract from the Journal Suisse d'Horlogerie et de Bijouterie of November 1963, with an illustration about promoting chronographs.
Nivada, which had been already exposed to this type of initiative in the 1950s, came up with a suitable response. It cannot be denied that its new Super-Chronograph is rather interesting, and even quite revolutionary compared to the other offerings of the time. In fact, it comes as somewhat of a surprise that this Chronomaster Aviator Sea Diver model manages to combine:
– a chronograph;
– water resistance to 200m;
– a tachymeter scale;
– a rotating bezel for diving;
– a second time zone (on the bezel);
– a sailing regatta countdown.
So far as we know, it's the only watch to combine all these features in 1961. From a stylistic point of view, its understated, clear and timeless design reveals no lack of taste. With a most practical diameter of 38.5 mm, it is immediately identifiable by its black dial with two subdials, one of which features a colored section, its wide bezel with a black aluminum inset and twin scales, and its initial broad arrow hands replaced by baton hands and a colored running seconds hand. For all these reasons the Chronomaster Aviator Sea Diver model won considerable popularity at its launch, especially in the United States where it seems to have been sold the most. The model met everything that the market wanted at the time and epitomized the professional sports watch.
The Chronomaster Aviator Sea Diver in films.
It is most likely that the brand, smaller than its more powerful competitors such as Rolex or Omega, did not have the means to develop market share or reputation, especially among celebrities or institutions.
A Chronomaster Aviator Sea Diver did however appear on the wrist of Brian Kelly, who wore it on several occasions.
It is known that Kelly and other actors wore Rolex Submariners during the Flipper TV program. Actually, most of the time, the actor wore a Croton Nivada Grenchen Chronomaster Aviator Sea Diver 1st Generation (labeled "Chronograph" and not yet "Chronomaster"), fitted on an "Oyster-like" riveted period steel bracelet.
Furthermore, Brian Kelly wore the same Chronomaster during the film Around the World Under the Sea.
That leads us to think that it may have been his personal watch… And it is interesting to observe the competition between the Chronomaster and the Submariner in that period (on Kelly's wrist, and also in the James Bond films on one hand – starring Shirley Eaton… – and in Around the World Under the Sea on the other hand).
Is the Chronomaster Aviator Sea Diver a pilot's or a diver's watch? Apparently both, and this makes the model unique. The fact that it was worn during very popular action films and TV programs from the 1960s illustrates the quality and the incredible skills of the Chronomaster at that time: according to the details mentioned in the instruction manuals of the time, it really was a complete instrument suitable for:
– drivers or other competitors because of the tachymetric scale which converts the time taken to cover a marked distance (usually a mile or a kilometer) into speed;
– physicians, because the central chronograph hand enables them to determine a patient's pulse rate by counting it over 15, 30 or 60 seconds;
– pilots, who can determine the number of flight hours from the secondary 0-12 scale of the exterior bezel;
– divers, who can see how long they have been under water from the main 0-60 scale of the turning bezel;
– sailing enthusiasts, who can use the 5-minute countdown on the subdial at 3 o'clock to start the regatta on time;
– travelers, who get a second time zone hour from the secondary 0-12 scale of the turning bezel.
Furthermore, the Chronomaster was featured as being water resistant to 200 meters, shock resistant and with a running time of around 36 hours.
The models fitted with the Venus 210 caliber are the first representatives of the Chronomaster Aviator Sea Diver dynasty, yet they don't have that name on their dials. Instead they are inscribed "Chronograph Aviator Sea Diver".
The first watches appeared in 1961. They are immediately recognizable by their small pushers and their wide broad arrow hours hand. These are perhaps the most emblematic of the Chronomaster models and the most exemplary in the collective imagination of collectors.
Among them there is one reference that stands out from the rest. This rare model can be identified by its white subdial hands and center seconds. All the examples we have seen have a brown tropicalized dial.
This rare specific model with white small hands is precisely the one worn by the actor: for that reason, we have nicknamed it after him.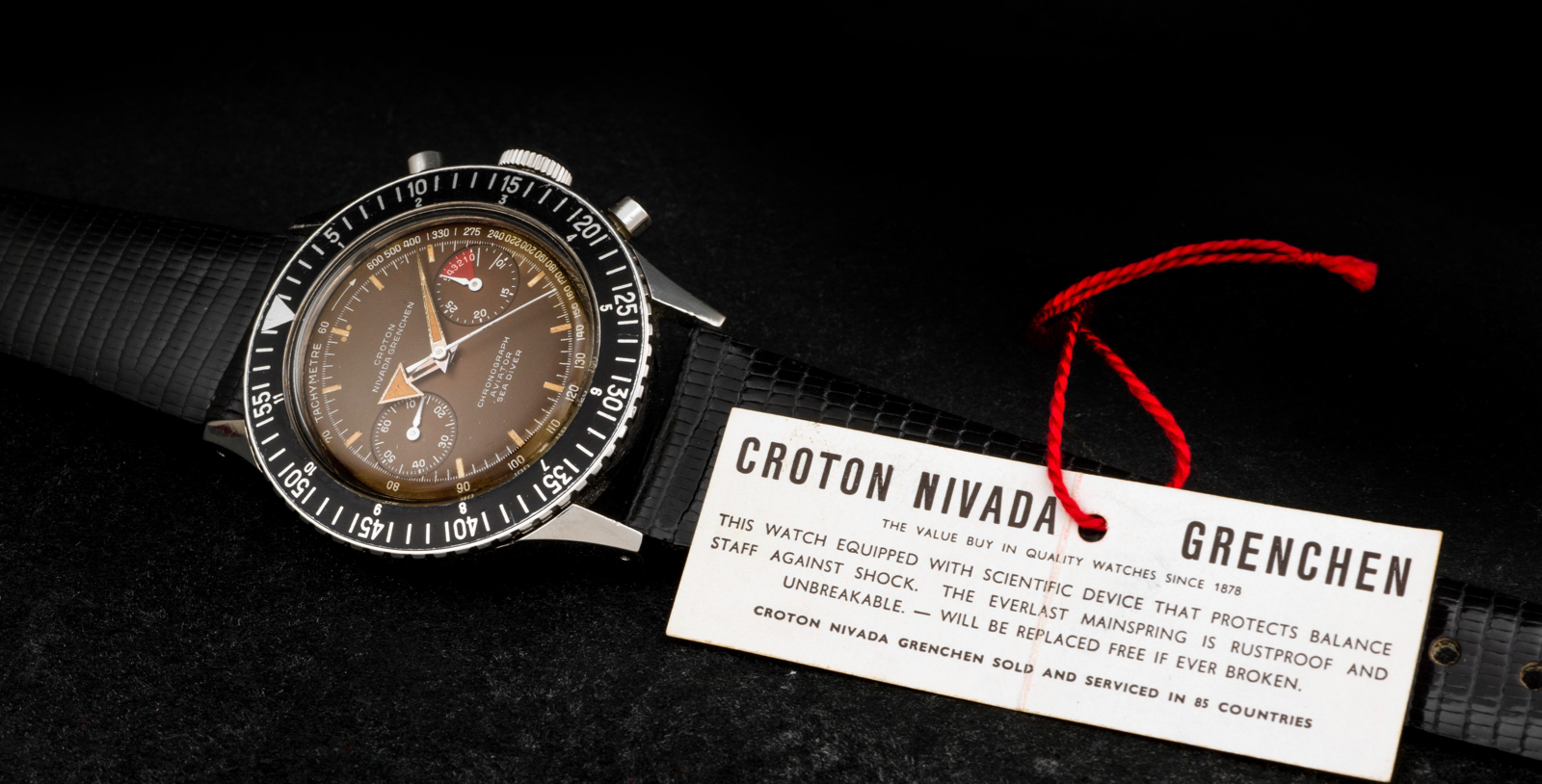 Croton Nivada Grenchen "Brian Kelly" (1961).
Reference 105 (5-figure s/n + 7-figure s/n).
Caliber Venus 210.
On all the pictures presented hereafter,
Brian Kelly is wearing a Croton Nivada Grenchen Chronomaster 1st Generation.
Credit pictures: various Internet.